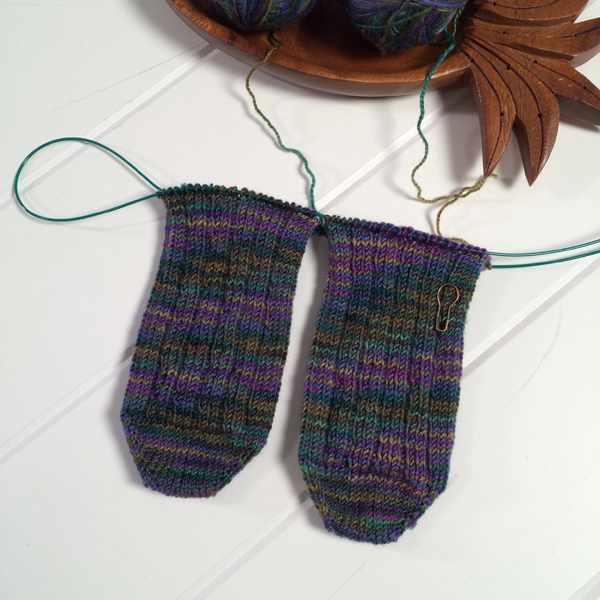 This past weekend I completely overhauled and reorganized my yarn stash, as well as my stash of knitted garments and accessories; donating, frogging or otherwise getting rid of anything that, as the saying I keep seeing pop up on blogs and instagram goes, did not bring me joy. (For the record, I have not read
this book
; only people's posts about reading the book. No offense to the author.)
Naturally seeing all of my neatly arranged yarn and curated knitted items compelled me to dive into, aka mess up, said neatly arranged stash and start another project; which, when completed, I would need to make space for. (Haha! What can I say, knitters - and makers in general - are a crazy bunch.)
Just as naturally my first instinct was to cast on a pair of socks for the husband, in part because I already had a sweater on the needles, but mostly because they've become my go-to "comfort knitting" project.
For whatever reason, I find those seemingly endless rounds of ribbing & stockinette very soothing. Plus at this point I've got my pattern pretty much memorized and feel very comfortable with the techniques used so I know from the jump any fingering weight yarn + a size 2.5 mm needle + the pattern I wrote based on this recipe will result in sock-sess. Meaning I can jump in without thinking about it too much.
Although there were quite a few other eligible candidates (one thing I learned from this exercise, with the exception of stuff I make for my niece, I only buy and knit with worsted or fingering weight yarn) I decided to go with two balls of mystery sock yarn that got very close to the donation bin due to the fact the colorway does not so much bring me joy. Because it kind of looks like a towel used to clean the palette from a late period
Monet
painting. Or fairy elf vomit.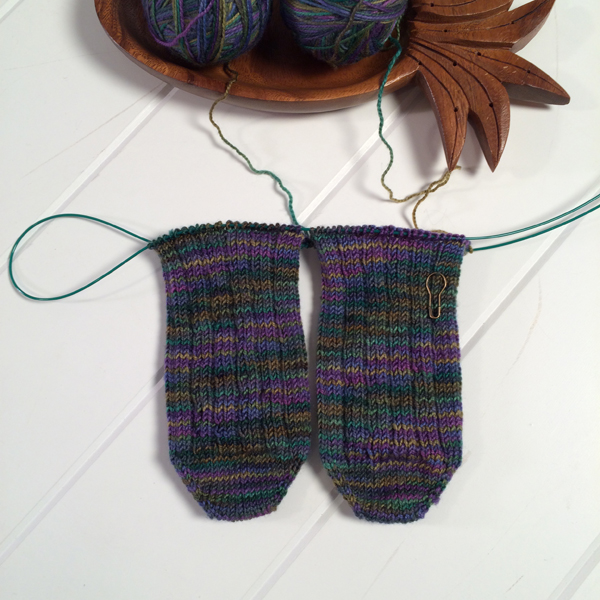 PS: As a side note to any new knitters in the audience, resist the temptation to wind your yarn into a ball for storage purposes. Leave it as is until you're ready to knit with it. I also recommend, when you do get ready to knit with it, keep the band or tag around (I store mine in a little plastic folder) just in case something goes awry and the balls wind up languishing at the bottom of the box under the bed where you store your sock yarn for several years.
PPS: Note I referred to these balls as mystery yarn, because despite everything I said in the previous aside, and my Virgo-esque tendency to be over organized, somehow neither band wound up in said folder and I truly have no clue what I'm knitting with. Sigh…
Anywhoo, while I was doing the toe increases I tried to remember where or when I may have purchased the yarn – the larger game plan being to take any information I could come up with and attempt to ID the yarn via Ravelry – but to no avail. Literally the only thing I could remember about the yarn was that I bought it online (thus the displeasure with the colorway) and my original intention was to knit myself a pair of socks with it. And this is the point where the euphemistic light bulb went off above my head, reminding me of
this post
and my pledge to "sock it to me."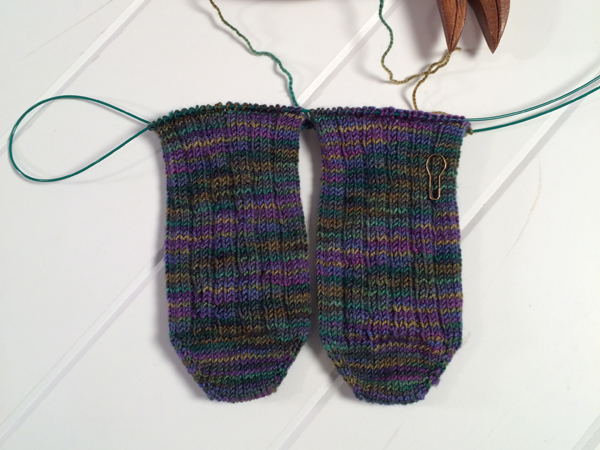 As fate would have it, when I slid the little toe wedge over my foot, I found it was right around the point where I could stop with the toe increasing and get to the foot knitting so that's just what I did. And so far, so good! I hope to follow up this post with pictures of a completed pair of socks, possibly photographed on my feet. Although not literally – I've got other fish to fry this week so it's gonna take me a minute to finish these, plus I've already got a half written post about the sweater I'm working on which will likely go up next but you know what I mean.
Wish me luck!