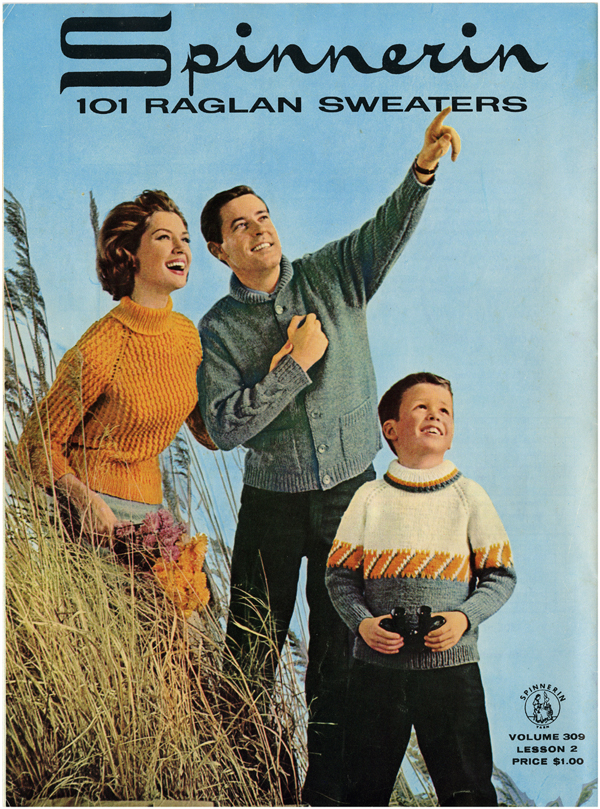 With Fall officially upon us, I've officially got sweater knitting on the mind and with that in mind, over the weekend I let a couple of vintage Spinnerin pattern books follow me home from the thrift store. (As well as a couple of other color coordinated pieces of knitting / sewing ephemera, see
here
.) There are cute sweater patterns in all of them but today I wanted to share some '60s era knitspiration from 101 Raglan Sweaters, aka 101 Ideas, Lesson #2.
As you've likely guessed from the title, the focus of this book is on that specific style of sweater construction, which is an interesting topic in itself. Some people love it, some decidedly do not and there are as many reasons for the former and the latter as there are knitters. As far as making them goes, I quite like a raglan sweater. Especially if we're talking about an open front cardigan; and especially if we're talking about, knitting, or talking about knitting one written by
Hannah Fettig
.
(Haha! Seriously though, I am happily knitting my way through
Knitbot Essentials
and just picked up a copy of
Home And Away
. As far as sweater knitting goes, she is / was my gateway drug. More on that topic later in the week.)
The main thing I like about knitting sweaters using this concept is how much you can subtly tweak a pattern, or practically rewrite it completely, to suit your individual figure / fit needs once you get the basic idea. According to editor Alice Carroll's introduction, if you understand how to fit and measure a raglan "…you will never be a slave to any written direction." And I have to concur.
I also like how her choice of words adds a little "stick it to the man" vibe to the act of making your own sweater this way but I'm probably reading too much into that. On to the sweaters…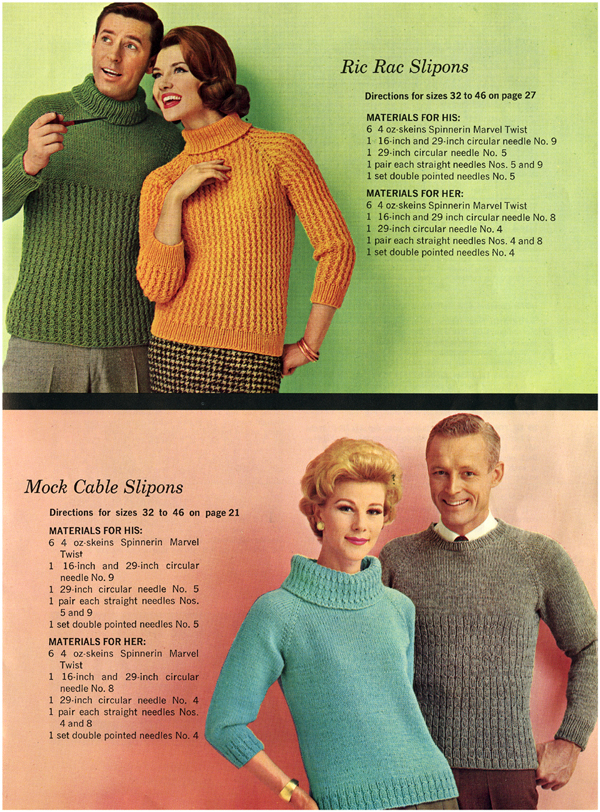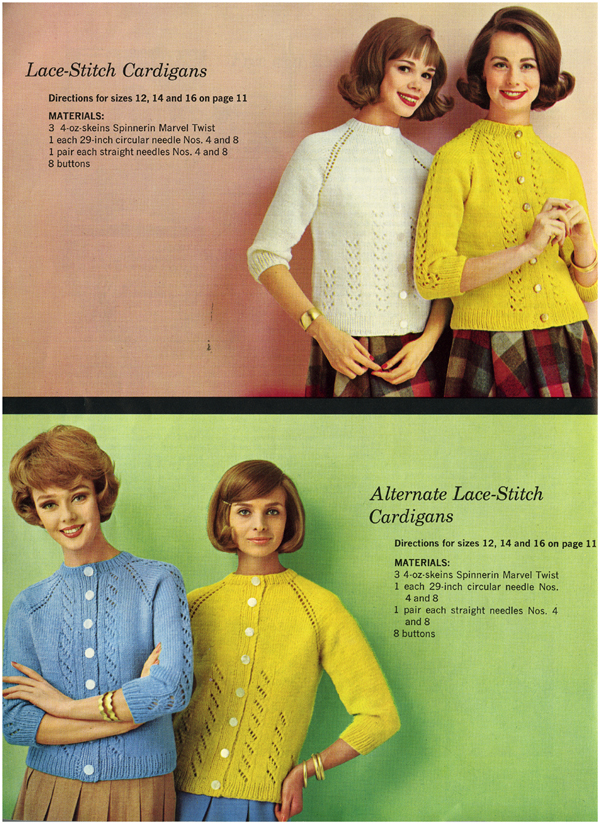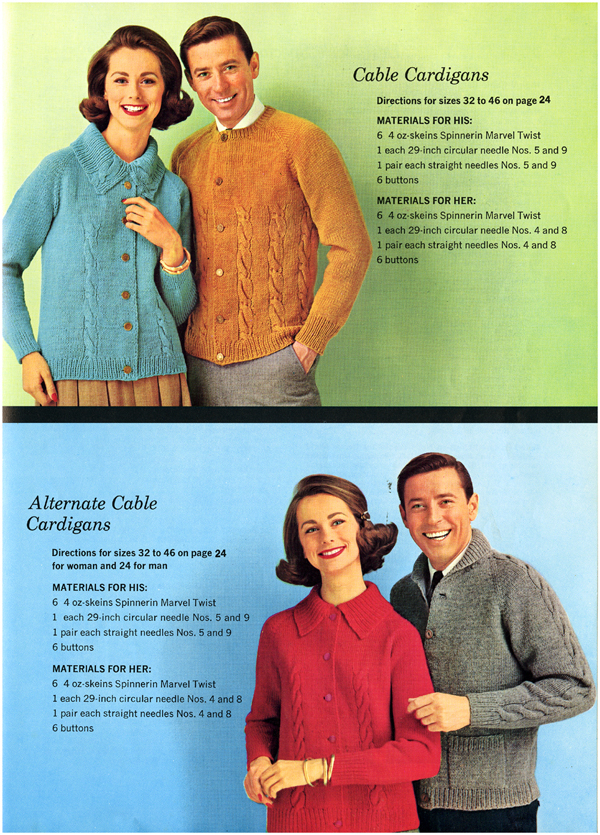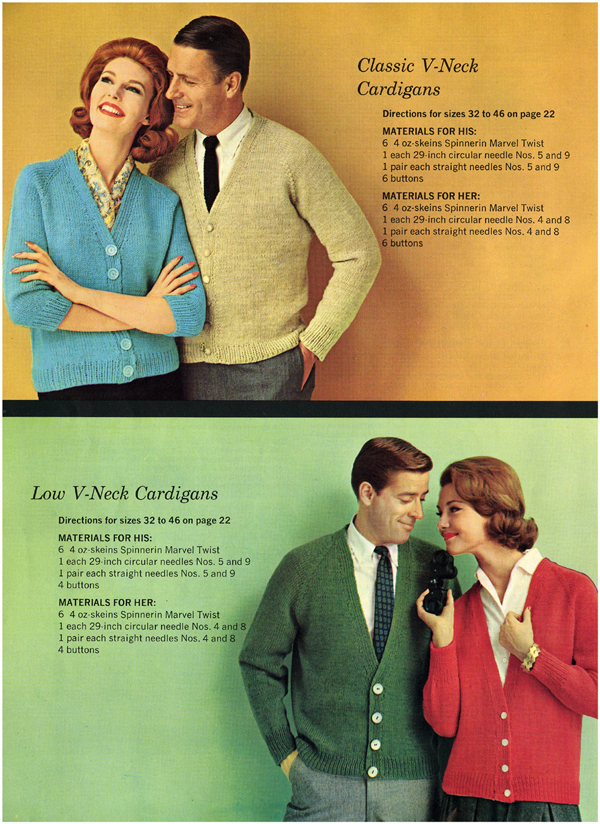 If I were going to knit something from this pamphlet, I'd probably go with a Low V-Neck Cardigan and add in details from one of the Lace-Stitch patterns. In fact, that sounds like a fun project. I think I'll add it to my to-do list.
Have you ever knit a raglan sweater? Did you love or hate it? Either way I'd love to hear your thoughts.

And while we're on the subject...
• A definition of the term as well as a brief history of the raglan:
What is a raglan sleeve and why is it called that?
(PS: I don't know if it is historically accurate but I am choosing to go with the Lord Raglan story because it is awesome, albeit a bit macabre.)
• I never realized this but there are quite a few
Spinnerin booklets
listed on Ravelry (sigh… I really need to figure out this site) and
this pattern book
is one of them. Check out one crafty Raveler's adaptation of the Round Neck Closed-Raglan Cardigan
here
.
• Speaking of Ravelry, more Alice Carroll designs,
here
.
• These booklets are pretty easy to find at flea markets, thrift stores, yard sales etc. but if you're looking to pick up a few for your collection without leaving your house, of course, there is
etsy
.