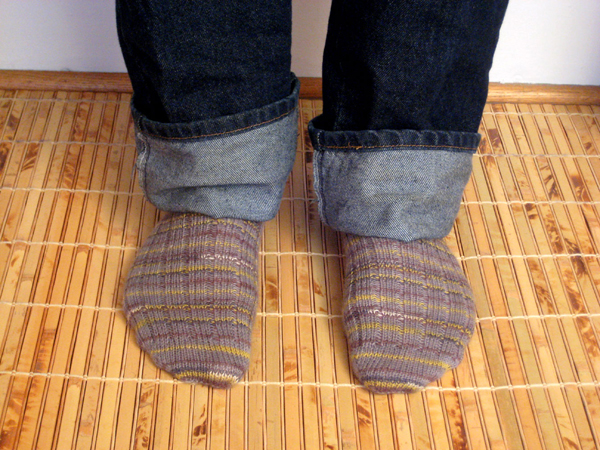 At the risk of bringing up something sooo October 2015, one of the prompts for week three of
Slow Fashion October
was proudest accomplishment and I think, as far as knitting goes, this pair of socks might be it for me.
They're not the first pair I made for the husband; they're actually the third. (In the original draft of this post I tell the story of the first two but, in an effort to be less wordy, I cut that part out. You're welcome. PS: I promise not to mention SFO in every post but, in my defense, I did mention I prepared and then never really posted a number of entries so…)
In many ways they're the first "real garment" I knit and I must admit, I do feel a bit of pride when I see these photos and / or him padding around the house in them. (I think he also wears them outside the house but if it's wool sock weather and he's outside, his feet are covered in boots so who knows what goes on in there.)
Anywhoo, I used Charisa Martin Cairn's
Lifestyle Toe Up Sock
recipe, which promised to be a "no-swatch guide for a toe-up sock with a no-wrap, no-muss, no-fuss short-row heel" that would yield a perfect fit and, for me / his feet at least, it lived up to that promise. In fact, the husband now has a drawer full of custom made socks I've knit using the pattern I drafted from this early experiment. In contrast, my sock drawer contains zero pairs of socks knit from this recipe, or any other pattern for that matter, because - confession time - I have never successfully knit a pair of socks for myself. Womp-womp!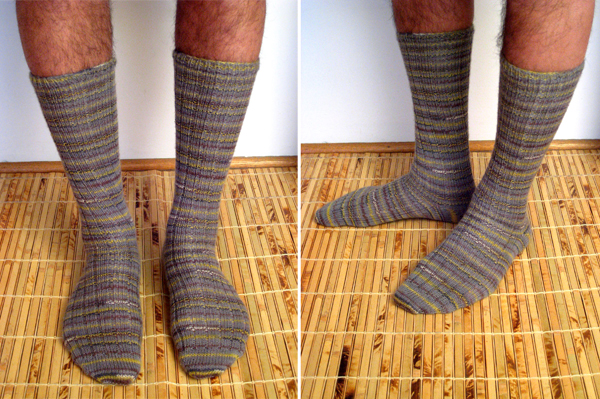 This Fall I've decided to change that so I made a brief survey of my Ravelry history to see what might be hidden amongst the pages of cardigan patterns. (Currently my favorite thing to knit.) These four have made it to the maybe list for various reasons. I'll keep you posted on my choice and progress.
School Girl
by Cabin Four Honestly I kind of want to knit all of Cabin Four's sock patterns but, as the saying goes, you gotta start somewhere. And I think I'd like to start with these. The only thing stopping me from casting on is I don't have any sport weight yarn in my stash.
I Heart Harvest Socks
by Shelley Stone This pattern contains a whole lot of things I've never done before. Gussets, and heel flaps, and kitchener stitch – oh my! (Actually I think I may have successfully seamed something using the kitchener stitch at one point? The only part I remember is, it requires a lot of concentration.) Still, I'm not against a challenge and I do love a ribbed sock.
Argyle Goes Minimal
by S. L. Meyers I also love an argyle sock but the idea of all the colorwork involved makes me uncomfortable. This toe up pair seems much more do-able. (I also love the lovely smokey gray color used for the sample.) I wonder how difficult it would be to adapt to knee length?
Heelless Sleeping Socks
by Nancy Bush I didn't know heelless socks were a thing until I saw this pattern in Nancy's book Knitting Vintage Socks: New Twists On Classic Patterns. (Picked up at a library sale in the Spring for 50 cents, natch! Gotta love a good book sale.) I'm still not sure heelless socks would be my thing but they sure do look cozy so I'm willing to give it a shot.
I'm also up for suggestions so if you have a favorite go-to sock pattern, please share!